Rosamunde Pilcher
Born in Lelant, Cornwall on 22nd September 1924 Rosamunde Pilcher first published in 1949 as an author of Mills and Boon romances under the pseudonym Jane Fraser. Using her own name, Rosamunde published her first novel 'A Secret to Tell' in 1955 and has written many successful novels since. In 1987, at the age of 63, she wrote the international best seller 'The Shell Seekers' which sold 5.5 million copies making her one of our most successful contemporary authors.
Having gained enormous popularity in Germany, where over 100 of her stories have been televised, Rosamunde was awarded the British Tourism Award in 2002. The effect on the Cornish Tourist Industry has been unsurpassed and the filming of 14 of her stories here at Prideaux Place for transmission in German speaking countries has made this house a Mecca for visitors from Germany, Switzerland and Austria.
Peter Prideaux-Brune likes to take a cameo role in the films shot at Prideaux Place and his credits to date include a chauffeur, a gin taster and a coroner.
Rosamunde Pilcher Films
1994 : END OF SUMMER : DAS ENDE EINES SOMMERS (FFP)
Director : Hans Jurgen Togel
Actors : Iris Junik, Diego Wallraff, Ralf Lindermann, Lola Muthel
1999 : A LONG WAY HOME : DER LANGE WEG ZUM GLUCK (UFA Films)
Director : Dieter Kehler
Actors : Karin Eickelbaum, Harald Krassnitzer, Sigfreid Rauch, Michael Roll
2005 : MAGIC NIGHT : SOMMER DES ERWACHENS (FFP)
Director : Dieter Kehler
Actors : Stephanie Kellner, Matthias Schloo, Birgit Wiedel-Weidinger, Christop Mory
2007 : WINDS ACROSS THE SEA : WINDE UBER DEM MEER (UFA Films)
Director : Thomas Hermann
2011 : STOLEN SUMMER : GESTOHLENER SOMMER (FFP)
Director : Stefan Bartmann
Actors : Mariella Ahrens, Helmut Zierl, Patrik Fichte, Vivien Wulf
2011 : THE MYSTERY OF THE WHITE DOVE : DAS GEHEIMNIS DER WEISSEN TAUBE (FFP)
Director : Dieter Kehler
Actors : Ivonne Schonherr, Reiner Schone, Hubertus Grimm, Angela Roy, Lutz Mackensy
2011 : STORMY SEAS : GEFAHRLICHE BRANDUNG (FFP)
Director : Michael Steinke
Actors : Julia Stemberger, Philippe Brenninkmeyer, Catherine Flemming, Urs Remond
2011 : ENGAGED AND CONFUSED : VERLOBT, VERLIEBT, VERWIRRT (FFP)
Director : Stefan Bartmann
Actors : Theresa Scholze, Steffen Groth, Christine Mayn, Max Alberti
2012 : THE WOMAN ON THE CLIFF : DIE FRAU AUF DER KLIPPE (FFP)
Director : Dieter Kehler
Actors : Mira Bartuschek, Daniel Buder, Heide Keller, Lutz Mackensy
2014: PROMISES AND LIES :WAHLVERSPRECHEN UND ANDERE LUGEN
Director: Hans Jurgen Togel
Actors : Denise Zich, Michele Oliveri, Sven Waasner
2015: A DOCTOR AND THREE WOMEN: EIN DOCKTOR UND DREI FRAUEN
Director: Stefan Bartman
Actors: Harald Schmidt, Alexander Klaus Stecher, Xaver Hutter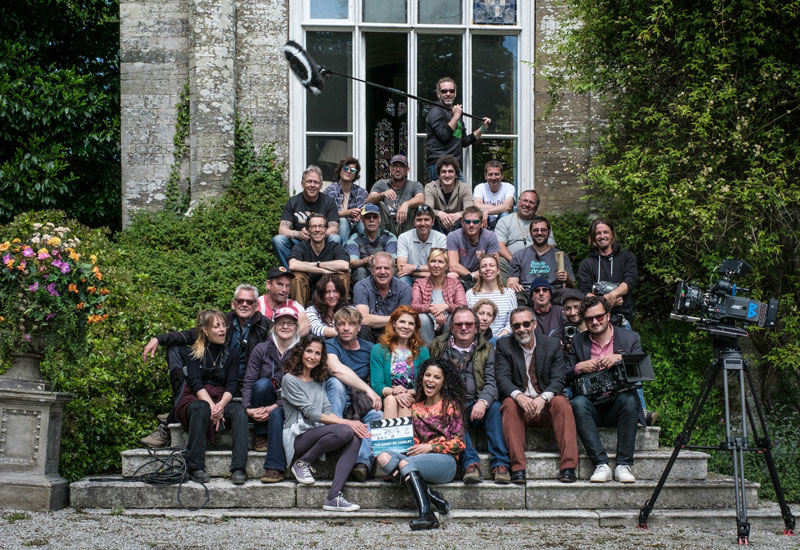 2017: DAS GESPENST VON CASSLEY: THE GHOST OF CASSLEY
Director: Marco Serafini
Actors: Andre Eisemann, Martin Gruber, Claudia Wenzel, Patricia Meeden, Michael Roll