A Stunning Cornish Garden
Having survived the Elizabethan, Georgian and Victorian eras, today's exciting restoration programme aims to return these beautiful gardens to their former glory. Now with the help and advice of Tom Petherick, who was an integral part of the restoration of the Lost Gardens of Heligan, much clearing and new planting has been undertaken.
The first extant records of the gardens are drawings by Edmund Prideaux in the 1730s. He landscaped the gardens with hedged walks leading down from the entrance. Following his Grand Tour and interest in Renaissance art he erected several buildings to provide points of interest: a classical Temple, an obelisk, a grotto and an exedra, a small stone arbour housing funerary urns whose inscriptions date  back to 50AD.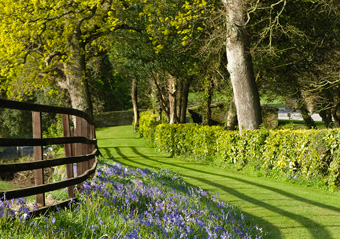 Since the restoration here was started a few years ago, many additions  and new plantings have been made including an 80 tree lime avenue, the remodelling of the Victorian Formal Garden, a hornbeam allée, the woodland walks  re-traced and an Acer Glade.
This historic garden has a unique supporter in the shape of a small teddy bear belonging to the owner, Peter Prideaux-Brune, called 'Me Too'. An enchanting book has been written by our Administrator, Carmen Hocking, which tells the story of the adventures that Me Too gets up to with all the other bears at night. All the proceeds from this book have been generously donated by Carmen to the garden restoration and already Me Too has helped to plant thousands of spring bulbs and over 300 herbaceous plants for the Acer Glade. See 'Teddy Bears' for more details of this book.